NeuroDesigner is continually being updated with new features and tools. As each major new tool is developed, it will be represented by one of the four elements. NeuroDesigner Earth is currently available and will serve as the foundation for the next three projects: Fire, Water and Wind.

Surface Summary
If  surface values have been collected and imported, this option will display an interactive summary of the surface metrics for both Raw and Z-score.   
LORETA FFT Summary
LOERTA 3D Summary
LORETA Protocol Creation
LORETA ROI Report
3D Brain
NeuroGuide Protocol Editor
ROI Threshold Count Report
Spreadsheet and WordProcessor
ROI Editor
10-20 ROI Tool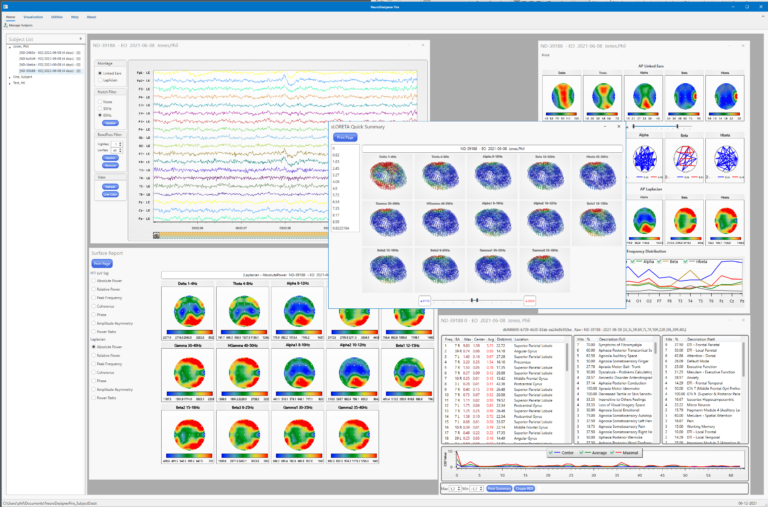 OverView
NeuroDesigner-Fire is an experimental EEG data
visualization tool that processes, organizes, and stores EEG data imported from
a simple EDF file.
Installing
Add Subjects and EDF files
Creating EDF Files
Navigation
Data Analysis
Export Data
Main Menu
Download
Affordable tools with unprecedented utility!
At NeuroDesigner, we care deeply about the people we are helping with our products.  Our mission is to lower the barrier of entry into the practice of neuromodulation by making affordable software and hardware for the neuromodulation practioner.
Download your copy of NeuroDesigner Earth today and see how much it can improve your ability to help your patients and clients.
Neurodesigner 19 Channel EEG Cap
Large, pure tin electrodes.
Replaceable Ear Clips.
Includes One Set of Ear Clips.
Constructed with FDA-compliant plastic.
Adjustable design.
Design allows clinicians to use additional systems such as Vielight™, or TACS/TDCS without having to remove the cap.
Lightweight and comfortable.
Electrodes are non-magnetic.
Easy to clean and maintain.
Chin Strap with Quick Release Buckle.
 LPR and the Protocol Editor applications are no longer being maintained, updated.
Most of the functionality of LPR and the  Protocol Editor have been added to NeuroDesigner.
NeuroDesigner is a set of applications that import and record various types of physiological information such as EEG, ECG, EMG, blood pressure, electrode impedance, etc. Once the data is imported, it is available for analysis, presentation, reporting and designing neurofeedback training protocols. The current release of NeuroDesigner – Earth imports NeuroGuide and Brain Avatar data. NeuroDesigner attends the individual subject (client, patient) and keeps track of all information belonging to that subject and the time it was recorded. All the various types of information for each recording session are kept in a single data object called a "recording". These "recordings" can be compared or contrasted over time to track change or discover trends.
NeuroDesigner-Earth is the foundation that contains the core databases, database editing and basic importing functions for the various physiological information sources.
NeuroDesigner "Fire", "Wind", and "Water" are in progress and still evolving but basically involve data acquisition, simulation, modeling and analytics.
Do you have a question?  We have an answer.
Hear what our current users have to say.
"I ran some tests on your EEG cap this weekend.  My feedback is that is took a little bit to get used to sizing the cap.  I fumbled around with it a bit to get it right and I think, in time, I will be able to manage it better.  When I ran it on QCheck the first time I initially got impedance values in the 10-15 range.  However, the person I was recording had dirty hair that was oily.  After 15 minutes on the head the values all dropped to roughly 1.  I recorded a 0.5-70 Hz recording.  The signal was unlike anything I have ever seen.  It looked amazing.  Clean as clean could be.    The cap worked perfectly.  I wholly endorse this cap and think you did a great job with it.  If you go to market, I would like to buy some from you.  "
         Nick Dogris PH.D., BCN, QEEG-D
My favorite parts of NeuroDesigner are the many ways it allows me to track client progress over time, both at-a-glance and in deep dives through the data.  It is so simple to place multiple windows on my screen and view the changes to my clients' brains throughout treatment.  The threshold count report allows me to see patterns of change over time in seconds where it would have previously taken many hours to come to the same conclusions without that tool.  NeuroDesigner helps me keep my clients' treatments headed in a positive direction.  Thank you for all your hard work, Phil!  I cannot wait to see what you have in store for us next!
Preston Patterson
M.S.  LMHC
NeuroDesigner's wonderful graphics of networks gives me an unparalleled ability to track changes in my clients.  It's not just pretty pictures!  The ROI tracker keeps me learning about the interaction of the Brodmann Areas  Using this software with a large monitor has been a huge boost in my analytic ability.  I can track single frequencies to their source or whole networks and simultaneously view four or more recordings.  Couldn't do what I do without it!
Candia Smith, DMN,
BCN, Qeeg-D